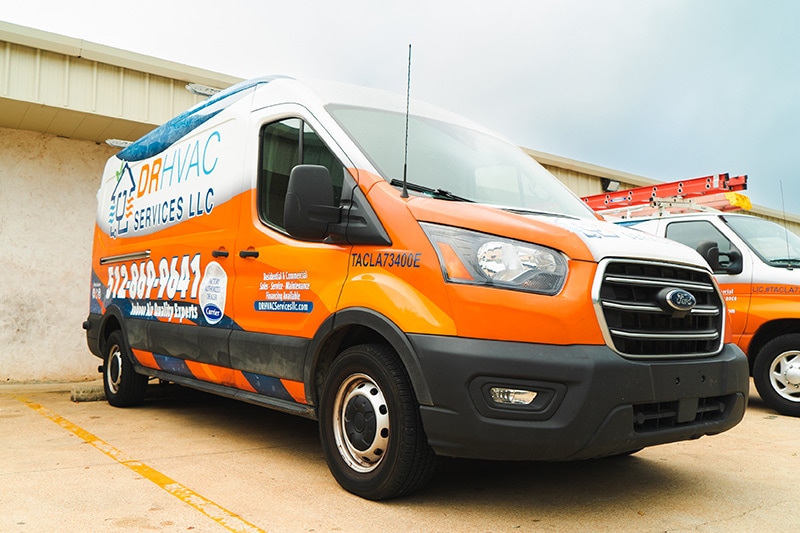 It seems like everyone has "got a guy for that" for just about everything. Here at DR HVAC, we want to be your go-to HVAC guys. We are a young, local startup with 25 years of combined experience. We focus on delivering superior service, impeccable installations, and responsible replacements. Local and ready to service the Austin and surrounding areas, we are ready and willing to go the extra distance for our customers with a small travel charge. We offer fair, flat rate repairs for residential customers, as well as reasonable hourly rates for our commercial accounts. Our services include residential and commercial services along with installation design. Bi-Annual or quarterly maintenance contracts are also available which will earn you discounts on repairs and credit towards a system replacement! We are DR HVAC and would love to be "your guys for that."
Hear what our customers are saying!
"We were loyal clients of the previous owners and the new ownership service has been fantastic! Quick repair on a hot day and so friendly, helpful and courteous! Thank you all from the initial call w/Marjorie to schedule the appt and the work performed by Richard and Isaac!"
- Patty M.
"I manage a few commercial office spaces and David is my go-to guy for anything HVAC related. He's been taking care of our office heating & cooling needs for longer than I've been in my role. Recently we reconfigured our office space which required some rearranging of our HVAC ducting. David and team quickly and efficiently reconfigured our new space. Once we started moving into the new space, we noted that offices along a wall with windows were getting a lot warmer than the other interior offices. David stopped by and adjusted all the supply dampers to re-balance the airflow with a bias toward the offices with windows. This along with some thermostat adjustments seems to have completely rectified the issue. David could have charged us for his time in adjusting dampers and consulting on other possible approaches to fixing the issue, but he didn't… he provided the service and time completely complimentary. Very much appreciated by a long-term customer. If you have commercial HVAC service, maintenance & repair needs, David P. and company can't be beat for their reliability, timeliness, honesty and ability to get the job done. I can't recommend DRHVAC and David P. strongly enough. Ryan P., Facilities Manager."
- Ryan P.
"We had another great experience with Dr HVAC. The team is courteous, efficient, on time and professional. Richard arrived as promised, diagnosed the primary issue and then identified a secondary issue caused by the primary problem. They were able to get parts and have us back and running in less than 24 hours. Thanks for keeping us going!"
- Lora B.
Visit our specials page to see our latest coupons and offers!
There's nothing quite like going green. By choosing environmentally friendly systems for your Leander home, you'll reduce your carbon footprint and can even save money.
Read More